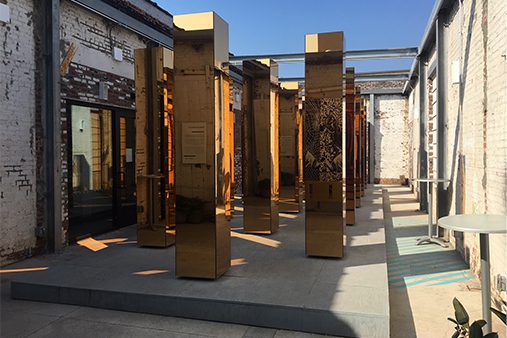 Featured Project: Precision Crating Team Shows Their "Spirit of the City"
The MSS Precision Crating division worked in conjunction with our friends at All Seasons Movers to de-install and crate the spectacular art installation "Spirit of the City", a modular system of revolving mirrored columns set on a grid configuration. The exhibition was on display at A/D/O (The Amalgamated Drawing Office), a 23,000 square foot former warehouse located in Greenpoint, Brooklyn's Industrial Business Zone. The Precision team worked with All Seasons and the "Spirit of the City" designers to de-install the exhibition and prep the items for transit to Dubai.
The Precision team arrived on-site prepared with pre-built crates fabricated to exact specifications and constructed with a unique shock mount crate base design intended to protect the columns from the rigors of transport. The de-installation involved dismantling a 12'x30′ wooden platform, disconnecting all of the wiring, and unbolting each of the mirrored column bases from the concrete. With an initial estimate of a single day of labor, the Precision team remained adaptable as the job extended over three days, with the inclusion of the crating of an additional complex piece of hanging art.
"The Spirit of the City" references the mutual influence between people and the city they live in. Our Precision team proved yet again that their hard-working and innovative spirit translates across all cities!