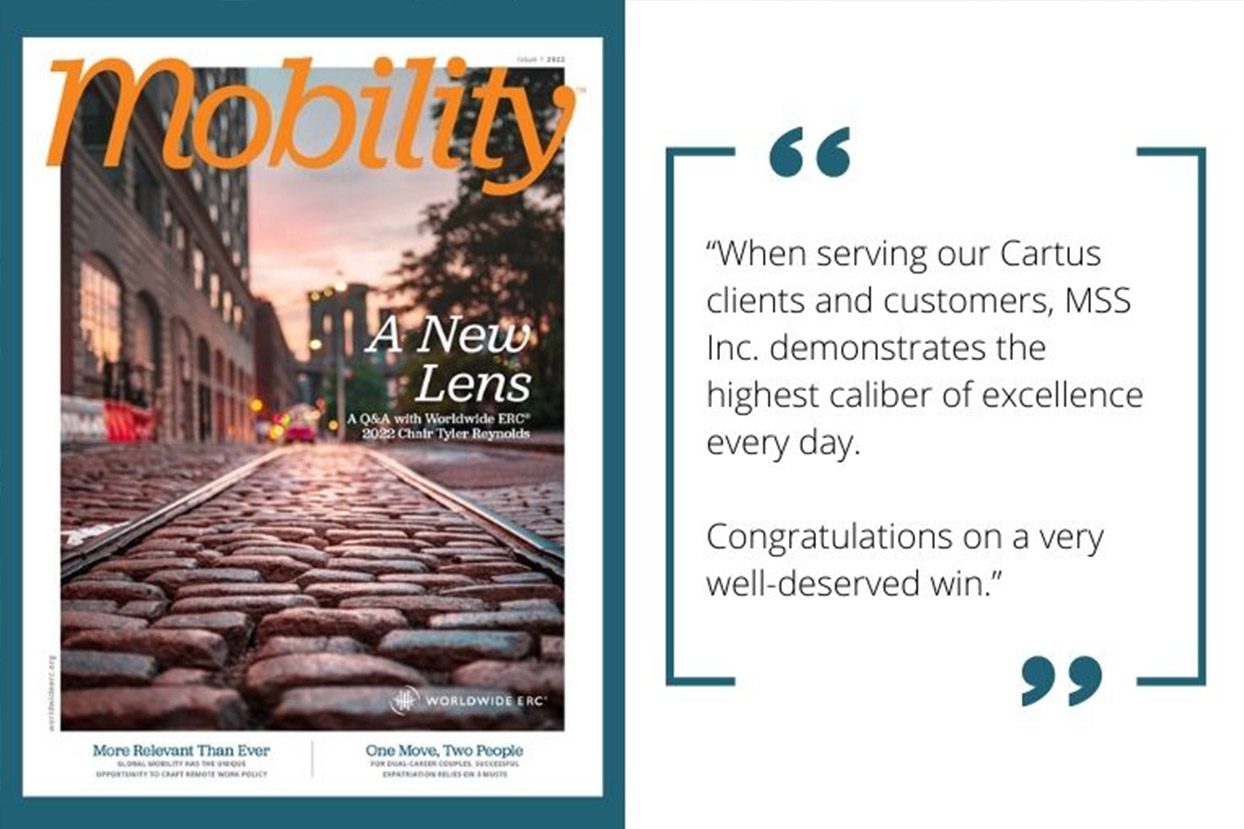 Mobility Mag Highlights MSS as Commitment to Excellence Platinum Award Winner
MSS, Inc. was honored for its outstanding performance at Cartus Corporation's 2021 Global Network Conference, held virtually from October 4-14, 2021. The Cartus Global Network is Cartus's industry-leading worldwide service provider network. Each year, Cartus recognizes the companies and individuals in the Network who have provided extraordinary service to its customers and clients worldwide. The theme of this year's conference was "Shaping the Future Together."
MSS was named winner of the Global Network Commitment to Excellence Platinum Award for its exceptional service results, the highest level award a supplier can achieve through service performance. This award recognizes a supplier's measurable commitment to excellence and is presented to Global Network service providers who have distinguished themselves by achieving critical performance metrics.
"Our network demonstrates professionalism, work ethic, partnership, and commitment to excellence and we are proud to have such a strong team of providers who recognize how critical each relocation is to an employee's life and career, as well as to the client's overall business objectives," said Eric Barnes, CFO and Senior Vice President of Supply Chain Management. "When serving our Cartus clients and customers, MSS, Inc. demonstrates the highest caliber of excellence every day. Congratulations on a very well-deserved win."
"The seemingly endless supply of challenges our industry has had to face since early 2020 have put a lot of things in perspective," said Tim Hughes, Jr., VP of Strategy & Marketing at MSS. "We've never been prouder to be a part of Cartus's Global Network, and to be recognized for our performance within it. Our team and suppliers continually strive to deliver best-in-class service, enabled and enhanced by innovation. We'd also like to thank our move partners for working together with us to meet Cartus's rigorous criteria and performance standards, all in service of our shared customers."
Mobility Magazine, the monthly publication of Worldwide ERC®, thought our win was worth mentioning in their Spring issue among their Industry Highlights! Check out the article here (page 15).